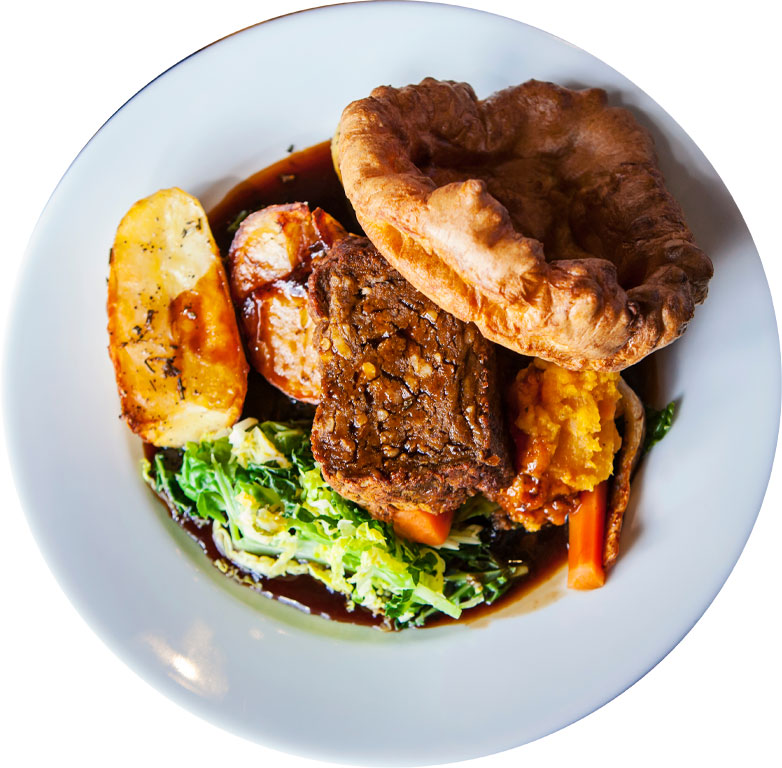 Fresh food cooked to order. Please be aware waiting times may vary during busy times
Unfortunately, due to increased costs, some of the items on our menu may be slightly more than advertised. A new menu is being produced to reflect this.
Homemade Soup of the day with bread & butter 5.25 
Halloumi fries with a sweet chilli dip 5.50 
Garlic mushrooms served on ciabatta topped with Stilton 6.25 
Salt & pepper squid served with tartare sauce 6.50 
Chicken liver paté served with toasted bread & red onion chutney 6.50
Prawn cocktail with Marie Rose sauce served with bread & butter 6.25 
Mains (Also see specials board)
Served with homemade Yorkshire pudding, creamy mash, roast potatoes, seasonal veg, roast parsnip & gravy
Topside of beef (served medium) 12.95
Chicken & stuffing 12.95 
Leg of lamb 14.95 
Loin of Pork 12.95
Veggie or pork sausages 11.95 
Kid's roasts 6.50 (Lamb add 1.00) 
Salmon in a creamy dill & tarragon sauce, mash, seasonal veg 16.95
Garlic & thyme roast potatoes 3.50
Cauliflower cheese 3.50
Stuffing x3 3.50
Pigs in blankets x4 4.50
Ask your server for our selection of desserts
All food is cooked to order. Please bear with us at busy times.
Please inform your server of any food allergies, full allergen information is available on request.
It is important not to rely exclusively on menu information as sometimes our recipes may change.
Customers who consider themselves at risk please speak to your server before you place an order.
Afternoon teas
Buffets catered for
Posh picnics
Doggie menu
Fizz Friday
Takeaways available
Large bowl 4.50
Small bowl 3.50
Side of sausage 1.50
Side of liver 1.50
Side of chicken 2.50
Doggie treats 2.00